Cort C4 Plus ZBMH Bass, Open Pore Tobacco Burst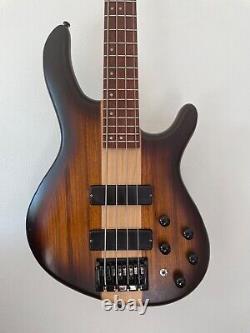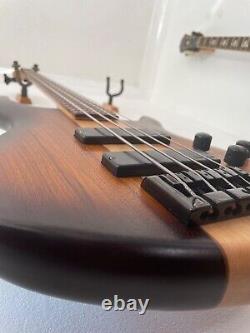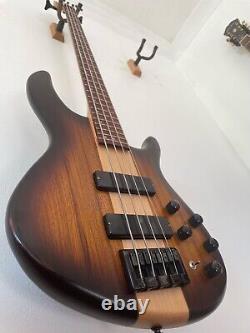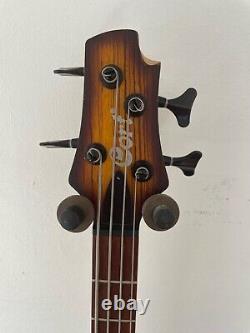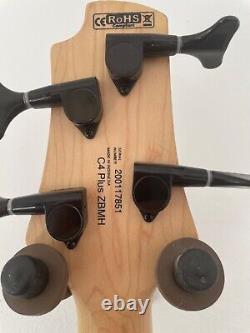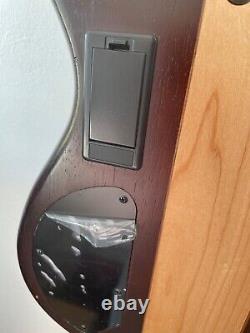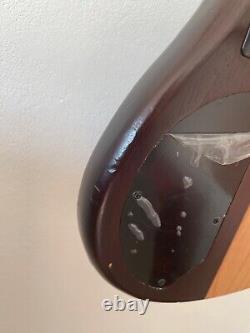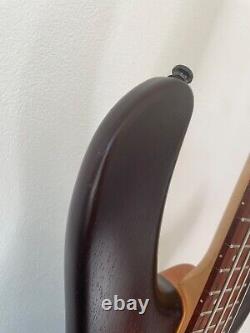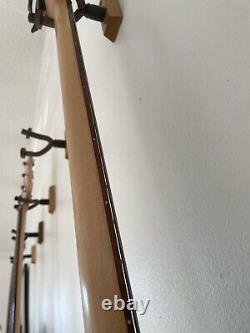 Lovely professional quality active bass that's a really great all rounder. If you're not familiar with the Cort C4 Plus ZBMH, they feature fabulous build quality, high specifications, include excellent Bartolini pickups and feature a Mark Bass preamp.
So they look and sound great. Never gigged, I have only used this bass in the house. That said, there are a few dings to neck and body, and a little wear to the finish where your arm and hand rests, but it's not pronounced and none of this affects playability. I have tried to capture these in the pics and reflected them in the price. I've recently been on a a bit of a spending spree and have accumulated new basses to suit different styles of playing, so the collection needs thinning out.
You are welcome to come and try it out. Here's just one of many rave reviews. The Artisan C5 Plus OVMH bass follows the tradition of Cort's Artisan Series, offering premium workmanship that's on full display with a unique body made from an ovangkol top, mahogany wings, and maple core. Both the 5-string and 4-string models offer a luxurious aesthetic that's hard to resist, given the ovangkol's blend of cinnamon-brown and darker streaks that evoke a classy vintage look. Beyond the surface, these tonewoods deliver a perfect blend of balanced tone.
Ovangkol shares similar characteristics as rosewood and bubinga, with a slightly fuller midrange and a top end that's not as bright sounding, while the strategically placed maple center makes up for the missing highs. The combination of ovangkol and maple, together with a warm-sounding mahogany body, provide an ideally balanced tone.
Putting the high-end workmanship of the Artisan Series on full display, Cort applies a rounder body shape on the Artisan C5 Plus OVMH that not only provides an iconic unified look on the traditional bolt-on (34-inch scale), but also delivers ergonomic comfort. The 24-fret Canadian hard maple neck with jatoba fretboard (15.75-inch radius) adds stability and contributes punchy brilliance to the overall tone of the instrument. Black hardware and die-cast tuners put a bold touch on an otherwise natural aesthetic.
Both the Artisan C5 Plus OVMH and C4 Plus OVMH offer a solid, high-mass MetalCraft M bridge, an upgraded feature that's highly adjustable with ample wide string spacing to improve playing comfort. The MetalCraft M4 19 mm or. 750 spacing on the C4 Plus and M5 18 mm or. 708 spacing on the C5 Plus were developed with more focus on ease-of-use and greater tone transfer. Depending on string thickness, the dual-string loading system allows the strings to be loaded either through the body or from the top for optimal string tension that results in enhanced sustain, greater playability, and focused sound.
Deep individual slots hold the saddles rock-tight, which provides noticeable tonal improvement by preventing unwanted movement and allowing string vibrations to correctly transfer to the body. The combination of the Bartolini® MK-1 pickups and Markbass® MB-1 active electronics are key to the versatility of the Artisan C5 Plus OVMH and its 4-string counterpart.
The Markbass MB-1 preamp provides a natural and transparent boost that does not color the organic nature or resonance of the instrument's woods. The combination of crystal clarity and natural warmth exudes a passive feel with smooth lows, full-bodied mids, and bell-like highs. Overall, the Artisan C5 Plus OVMH and C4 Plus OVMH are versatile bass guitars that are ideal for any style of music and playing environment, with looks, sound, playability, and features that will satisfy the most discerning of players.