Dean Edge Q6 Transparent Blue 6-String Electric Bass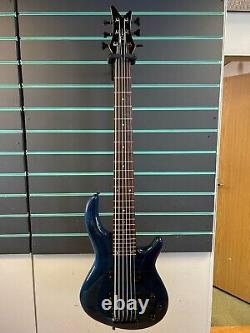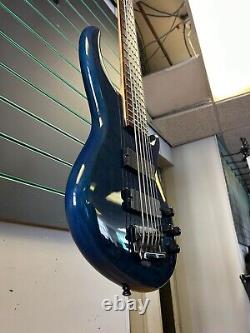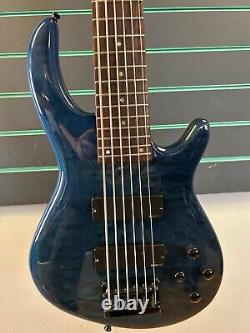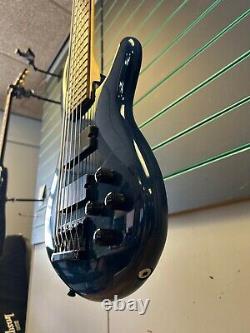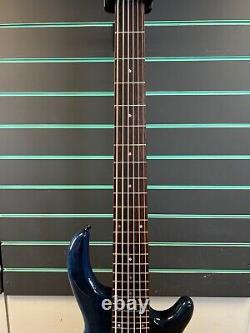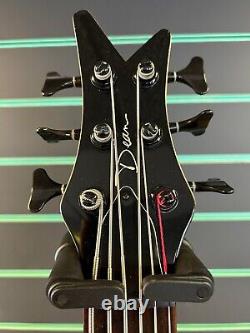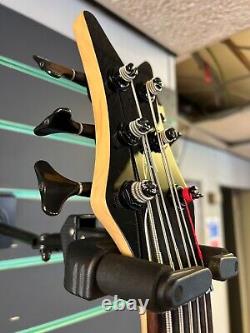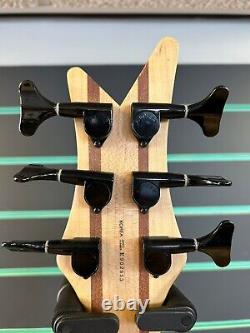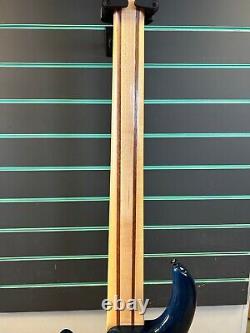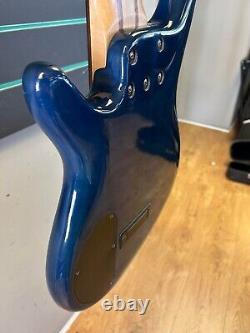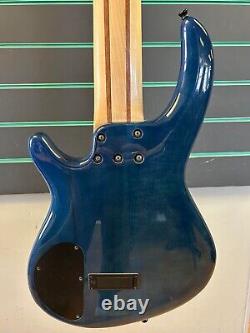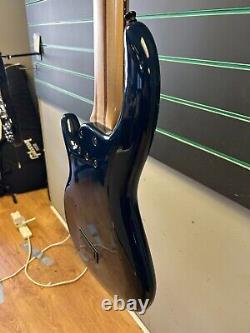 We advise finding our website where you can find direct prices and discuss all of the above! Dean Edge Q6 Transparent Blue 6-String Electric Bass. Here for sale we have a Dean Edge Q6 6-String Electric Bass in a Transparent Blue finish. Made in Korea, this bass features a Basswood body, a Quilt Maple top, a Maple/Walnut neck, a 24-fret Rosewood fingerboard, and two EMG-HZ Pickups that are wired to a master volume, blend control, bass and treble control.
The neck profile is wide but thin for an anchored grip on each note, the finish on the neck and Rosewood fingerboard feel smooth in the hand making sliding up and down between notes on the fretboard effortless. The double cutaway design also offers easy access to the higher frets making this 6 string bass accessible to many players. Nut Width - 2.09. Pickups - 2x EMG-HZ Pickups. Controls - Master Volume, Blend, Bass, Treble. Headstock: Overall very good condition, the front face displays light scratching, which is more notable towards the top edge where there is light indentation, particularly towards the treble side point. The sides demonstrate scuffing and light paint transfer, with some hanger staining towards the nut. The rear face demonstrates minimal markings. Neck: The rear of the neck presents very light scratching, most notably towards the heel on the bass side where two very small scratches can be felt under the fingers.
The fingerboard demonstrates light markings consistent with use of roundwound strings. Body: Overall very good condition, all aspects of the body demonstrate light yet consistent scratching, visible only at certain angles, as is common with high gloss finish. There is a small indentation in the middle of the bass side lower bout on the front face, which can be felt under the finger.
The rear face demonstrates light buckle rash visible at most angles. The frets demonstrate light signs of use, not affecting playability. There is considerable material remaining for any future work the new owner may wish to perform. Truss Rod Condition: Fully functional & can be adjusted. Hardware Condition: Fully functional with light signs of wear.
Structural Condition: No concerns or issues to note. Height of the string from the 12th Fret- Treble 2.5mm - Bass 3mm. Please be aware that the action on a guitar may move slightly in transit and this measurement is the current height. Strings on Guitar - 30-130 6 string set ROTO.
Truss rod tool (4mm hex) not included. Due to Brexit, this also applies to EU buyers.
We are a Manchester based retailer specialising in second hand guitars with both an online store and a physical shop in Ashton Under Lyne. All of our guitars have been checked over and setup in our workshop where a thorough luthier report is also written to accompany the description. Please visit our website if you wish to discuss any of the above. Our luthier reports are designed to be as critical as possible as we want to avoid any unwanted surprises when you receive your new guitar. Our pictures are designed to best show the guitars condition as we want to give as honest a view of our products as possible. If you have any questions regarding our luthier report, or if anything is unclear, please do not hesitate to send us a message and one of our technicians will get back to you.