Lindo Sahara Electric Bass Guitar Short Scale 30 Nautical Star Inlay UK Design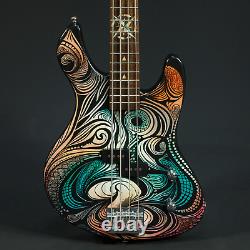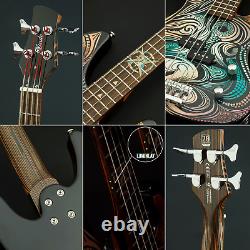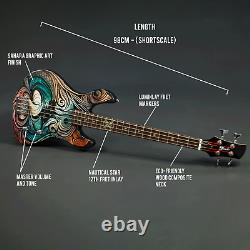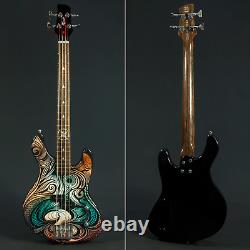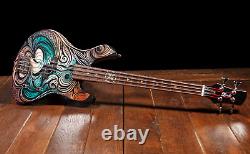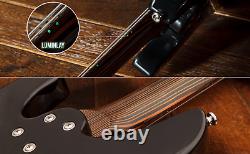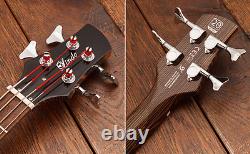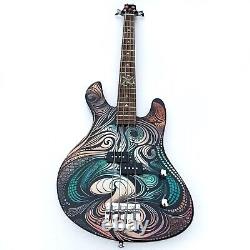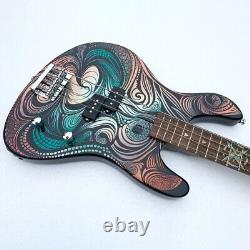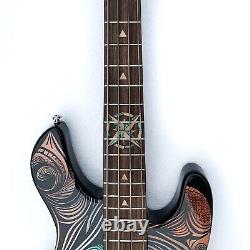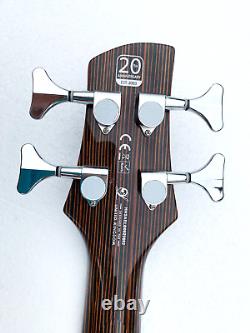 LINDO SAHARA ELECTRIC BASS - DESIGN AND CONCEPT. Celebrating 20 years of crafting unique guitars, Lindo Guitars in Bristol, UK, unveils the Lindo Sahara Electric Bass Guitar. A 3/4 size 30 scale instrument, this electric bass guitar blends the tradition of the craft with innovative, eco-conscious design.
The Sahara Electric Bass draws its inspiration from the vibrant hues and compelling art of Africa and the Sahara region, resonating with a spirit that's both timeless and distinctive. The Lindo Sahara proudly showcases a commemorative 20th-anniversary stamp on the eco-conscious headstock and neck. Adding to its polished aesthetics, the headstock features chrome 19:1 tuning pegs that perfectly complement the chrome bridge. These tuners not only contribute to the guitar's sleek appearance but also offer exceptional ease of use, solidity, and stability.
With these reliable tuners, players can confidently trust that the bass is perfectly tuned and ready to be played without any concern. With its captivating graphic art design, the Lindo Sahara stands out in appearance, but its true sonic soul lies in the Lindo Purebass pickups boasting an impressive 8.2k output.
These pickups deliver a powerful, rich tone that resonates deeply, whether you're playing delicate melodies or laying down heavy grooves. The Lindo Sahara Electric Bass Guitar exemplifies Lindo Guitars' commitment to innovation, craftsmanship, and a profound love for music, which has been their hallmark for the past two decades. Not just a visual delight, the Lindo Sahara bass incorporates exquisite abalone and maple wood to craft a stunning 12th fret nautical star inlay. This intricate detail is a testament to the exceptional skill and meticulous attention that goes into crafting each Lindo instrument.
The Lindo Sahara Electric Bass Guitar is a true masterpiece, combining aesthetics with unmatched sound quality. At the heart of the Lindo Sahara bass is its uniquely striped composite neck, which is designed for both durability and comfort, ensuring effortless playability while aligning with our commitment to responsible practices.
Adding to the instrument's captivating appearance and outstanding tonal quality is the solid laurel wood fretboard, offering a smooth and fast playing surface while adding an elegant touch to its overall presentation. The basswood body further enhances the bass's sturdy feel, perfectly complementing the fretboard and neck. For enhanced visibility in low-light conditions, thoughtful Luminlay fretboard side dots have been incorporated. These glow-in-the-dark markers not only improve playability but also add an exciting visual element to your performance, making it easier to navigate the fretboard even in dimly lit surroundings.
The Lindo Sahara bass is crafted with meticulous attention to design and playability, making it a truly remarkable instrument for musicians who value both performance and a conscientious approach to craftsmanship. FULL PROFESSIONAL SETUP BY OUR GUITAR TECHNICIAN. At Lindo Guitars, we take great pride in ensuring that all of our guitars are professionally set up by our expert guitar technician. From adjusting the truss rod to ensuring optimal action, every detail is meticulously taken care of. This level of care and attention means that when you receive your guitar, it's ready to play straight out of the box with only a quick tune-up needed. You can focus on your playing without worrying about the technicalities. With our full professional setup, the Lindo Sahara is guaranteed to provide a hassle-free and enjoyable playing experience.