Squier Sonic Precision Bass, Black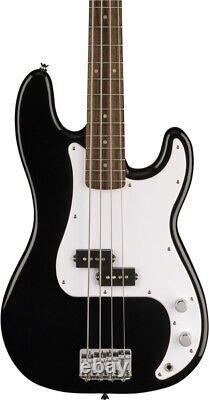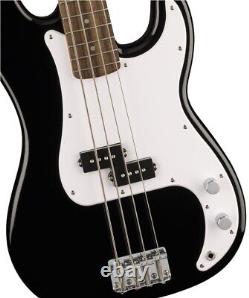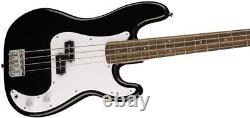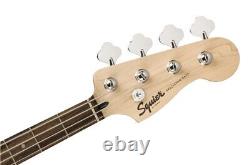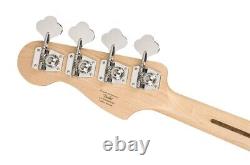 The Squier Sonic Precision Bass is the perfect choice for beginners looking for a high-quality, affordable instrument that doesn't compromise on style or sound. With its iconic Fender design, classic tone and inviting playablity that's ideal for new players, this bass is ready to take your musical journey to new heights. Iconic P-Bass DesignIntroducing the Squier Sonic Precision Bass, a stunning instrument that combines classic Fender style and exceptional tone at a price point that's ideal for new players. In fact, this model is the most affordable full-size P-Bass that Squier have offered so far.
Like any instrument that proudly displays "Precision Bass" on the headstock, the Squier Sonic version is a beautifully simple bass guitar that can handle a wide range of styles with ease. Comfortable PlayabilityThe Squier Sonic Precision Bass boasts a thin and lightweight body, ensuring optimal playing comfort during extended practice sessions or live performances. The slim "C"-shaped neck profile and narrow 1.5 nut width provide an inviting feel that's easy to get to grips with, making it an excellent choice for players of all skill levels. There's a reason why the Precision Bass sound has featured in rock, blues, funk, metal, country and countless other genres.
Precise Intonation and Stable TuningEquipped with durable chrome-plated hardware, the Squier Sonic Precision Bass is a reliable instrument that's simple to set up. The solid 4-saddle hardtail bridge offers precise intonation adjustment, ensuring your bass stays in tune across the entire fretboard. The open-gear tuning machines provide smooth and accurate tuning, while the sealed-gear design ensures long-lasting performance and reliability. Eye-Catching StyleSquier offer the Sonic P-Bass in three classic finishes - Black, California Blue and 2-Colour Sunburst - allowing you to pick the perfect one to match your personal style.